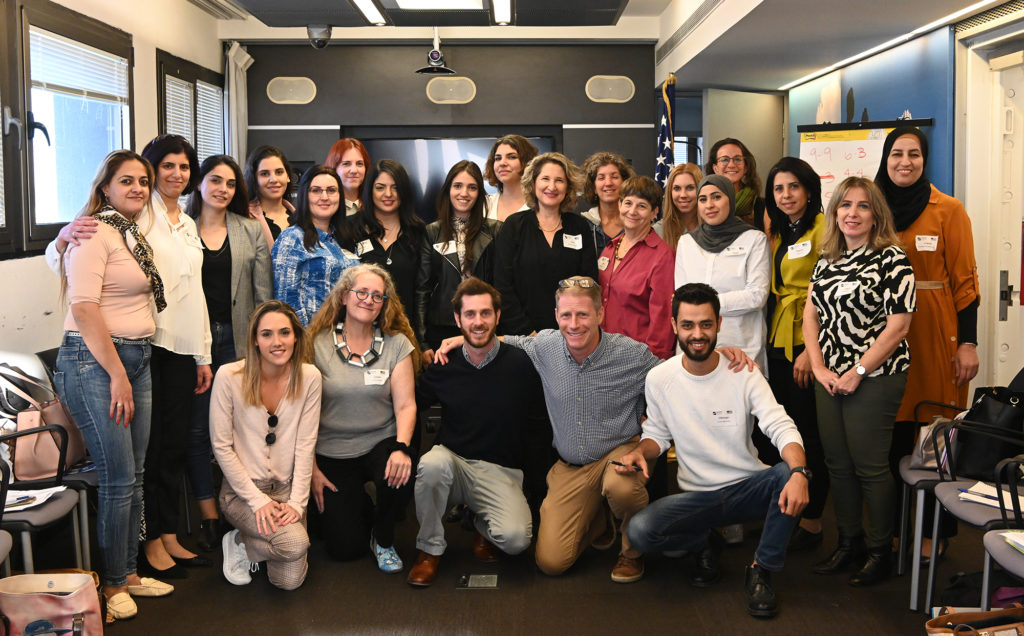 This year proved quite unpredictable, didn't it? We started out as we traditionally do, gathering in November at the offices of our partner and funder for this project, the. U.S. Embassy in Tel Aviv. The program launch was a time for fellows to get to know one another and to greet their year-long partner for the student Game Changers workshops to be held in the Spring. 
Our first educational session for all of the fellows was hosted by Aida Boutros at her high school in Kfar Kanna in the north. Fellows were guided by Founder & Executive Director Avi Goldstein, who flew in from Brussels to work with the group, and Program Manager Rachel Winner. This session, which took a deep dive into the 7 Elements of Negotiation and the Getting to Yes book each fellow was gifted, was a precursor to the apex of the fellowship – the 2-day student Game Changers workshops. 
The workshops are the highlight of the year, in which each school hosts its partner and 20 of their students for one day. It's a time to connect and exchange, to walk their counterparts around their campuses, to dine together, and in between all of that, to spend five hours learning from two expert facilitators about negotiation tactics through an array of games, competitions, simulations, challenges, and negotiations. The fellows are there to support their students as well as observe the workshop for both content and methodological intake.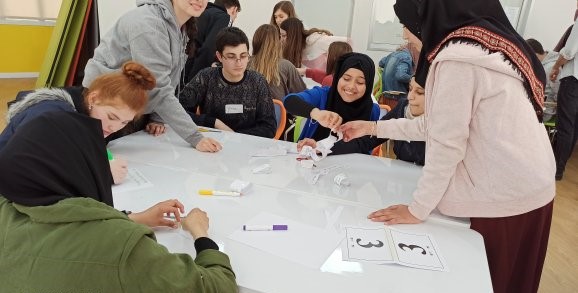 Unfortunately, this is where COVID-19 forced us to hit the Pause button on the program: just over halfway through the student workshops with a few pairs still waiting for their sessions.
PATHWAYS was able to receive an extension for the program and is committed to conducting the three remaining workshops with the fellows and their eager students. We explored running a shorter digital workshop, which we began offering for the AMAL School network in May (more about that in posts to come), but the fellows negotiated based on their interests that the students have the full experience of the school exchange. So we agreed to wait and host the remaining workshops when schools open up again in the fall.
In the meantime, we continued with the fellows' education online through the Master Class series of webinars, accessible to current and alumni participants of all of our programs. Although the Master Class series is not part of the fellowship, NET fellows take part in the online sessions as part of their year-long coursework. This year we had a truly remarkable lineup of presenters; read more about our Master Class speakers here. They have just submitted their teaching tools, which will be reviewed and entered into our Resource Library of negotiation tools to be freely utilized by all.
It is somewhat anticlimactic to close out the year without a formal ceremony, but social responsibility is keeping us from gathering together this summer. With hopes for a future gathering, and anticipation for the three remaining student workshops, we formally bid adieu to the 2019-2020 Fellowship in the best way we can: with a small parting gift and a certificate sent by post. We hope it reaches you soon and bid each of you gratitude and respite.

You have gone above and beyond as educators this year and it has been an honor and a pleasure to work with you. We are very grateful to have navigated its unexpected twists and turns with you and this community of educators. And thank you again to the U.S. Embassy for making this program possible.
As graduates of the NET Fellowship, you join a nation-wide community of practice and camaraderie in the growing field of negotiation education, which will provide ongoing opportunities to learn, grow, connect, and contribute in the upcoming academic year and beyond. We hope you have a restful, rejuvenating summer and we look forward to continuing this journey together.
Although educators may not take part in the same program twice, they may take part in our other programs, such as the Negotiation Education Summer Institute, and/or invite colleagues from their schools to apply for either program. Please keep your eye on our News section for updates about upcoming opportunities!