Our negotiation programs are based on an experiential approach to education, whereby participants experiment by doing something intuitively (a game, a role play, a simulation), before assessing the results together, reflecting on what factors were in play, and then determining what they might want to change or try the next time around. We believe that this experiential method delivers meaningful, content-based learning. Additionally, it gives each participant a personalized journey that can be connected to their own lived experience – in and out of the workshop – as we jointly explore established concepts and tools from a proven negotiation methodology. 
We facilitate discovery by staying true to the PATHWAYS mission.
PATHWAYS does not promote any particular political agenda. We respect the values and traditions of all of our participants, regardless of ethnicity, religion or nationality. 

PATHWAYS workshops and programs operate on three dimensions: 
Addressing Attitudes and Assumptions that shape our sense of what's possible and frame how we engage with others. We help participants to name their assumptions, to identify enabling ones, and to foster an attitude of possibility.
Building key Skills necessary to problem-solve, communicate effectively, and create durable agreements. We provide structure for applying skills utilizing practical tools.
Developing foundational Knowledge of theory and vocabulary to help organize thinking and to support more effective negotiation and communication.
WITH STUDENTS
GAME CHANGERS
The Game Changers Negotiation Skills & Exchange program is PATHWAYS's flagship two-day experiential negotiation skills workshop in which participating 5-point English high school students discover foundational concepts of problem-solving negotiation through interactive exercises, role plays and games – while building their English speaking skills and meeting students from another social background from a partnered school. Each participating school in a pair hosts one day of the program at their school during the regular school week as a co-curricular learning experience and intercultural exchange. PATHWAYS has delivered Game Changers workshops to several thousand high school students in a wide range of communities across the country. In the 2018-2019 academic year, PATHWAYS worked with 800+ students from diverse Jewish and Arab communities in 40 schools across Israel.
NEGOTIATION SKILLS FOR MUN
The Negotiation Skills Committee is a unique skill-building track of Galilee Model United Nations in Nazareth (GALMUN) conceived and run as a collaboration between PATHWAYS and GALMUN. Participants selected for the Negotiation Skills Committee take part in an intensive, participatory two-day workshop run by PATHWAYS in which they learn a powerful framework for problem-solving negotiation based on the work of the Harvard Negotiation Project. The workshop centers on engaging simulations, high-stakes multi-party negotiations, and interactive exercises.Participant emerge equipped with essential concepts, skills and tools that enable them to be effective delegates at future Model United Nations (MUNs).
WITH PRE-SERVICE EDUCATORS
Academic College Courses
PATHWAYS has developed and delivers semester-long and intensive courses at leading academic colleges such as Achva Academic College and David Yellin College of Education. Courses prepare future teachers with problem-solving negotiation concepts and skills that they can use in their own teaching practice and incorporate into the curriculum for their students. 
WITH EDUCATORS
NET FELLOWSHIP
In 2017-2018, PATHWAYS launched the Negotiation Education Teachers Fellowship to work with a select group of English Language educators to explore the intersection between negotiation education and the English Language classroom, and to create a shareable repository of activities for teaching negotiation in EL classrooms in diverse communities across the country. Teachers are paired with counterparts from other communities and their students go through a Game Changers workshop together, providing a transformational experience for students and a catalyst for the teacher and school. Schools are supported in continuing their engagement with one another through a network of partners certified by PATHWAYS to provide follow-up activities in related topics. 
NEGOTIATION EDUCATION SUMMER INSTITUTE
The annual four-day Negotiation Education Summer Institute run by PATHWAYS with the support of the U.S. Embassy has become known as a premiere destination for English Language educators to explore how negotiation concepts and skills can be brought to life in their classrooms and to meet leading international negotiation experts. Past guests have included Sheila Heen (Harvard Law School and Co-Author, Difficult Conversations), Whitney Benns (Harvard Grad School of Education), & Rachel Viscomi (Director, Harvard Negotiation & Medication Clinical Program).
PROFESSIONAL DEVELOPMENT PROGRAMS
PATHWAYS organizes and facilitates a number of professional development programs (Gmul Hishtalmut) during the academic year for educators, including workshops on negotiation skills for teachers, mediation and conflict resolution, and negotiation education through the English Language classroom. 
PATHWAYS COMMUNITY
Educators who have taken part in PATHWAYS programs are invited to join a growing and diverse network of educators from around the country working to bring problem-solving negotiation skills and values into their schools. Activities of the community include an annual Negotiation Education Summit, webinars with guest experts, peer mentorship, and access to resources and tools for ongoing application in the classroom. 
PATHWAYS has been certified by Israel's Ministry of Education as a provider of professional development courses and participating educators receive PD credits. 
WITH SCHOOLS
INDIVIDUAL SCHOOLS
PATHWAYS works with individual schools – public, private, secular and/or religious – looking to make negotiation education a part of their pedagogy and culture. We create and implement workshops, inter-school pairings, and teacher training programs, and consult with administrators in order to help schools become places where constructive skills of negotiation are learned, modeled and lived.  
SCHOOL NETWORKS
PATHWAYS works with school networks to create programs for systematically incorporating negotiation education into their schools. Programs include student and educator workshops, creation of custom materials and resources, integration with curricula, production of student summits, and support with outreach and visibility efforts. 
MUNICIPALITIES & REGIONAL AUTHORITIES
Our municipal and regional programs support local authorities in integrating negotiation education into their school systems, in coordination and partnership with relevant stakeholders and organizations. 
WITH ORGANIZATIONS
INTENSIVE SHORT COURSE FOR NGOs
PATHWAYS works with non-profit organizations to adapt and deliver a tailored 5-part Negotiation Skills and Leadership short course (4 hours each weekly or bi-weekly session), bringing key problem-solving negotiation skills into a relevant and immediately applicable context for participants, including educators and community leaders.
BUILDING EFFECTIVE ORGANIZATIONS
PATHWAYS works with a variety of social impact and educational organizations to help develop problem-solving negotiation and communication skills in staff and leadership in order to foster cultures and systems that support them in pursuit of their mission. Programs include staff workshops, team retreats, and seminars. 
SOCIAL IMPACT & LEADERSHIP
We collaborate with like-minded social impact and educational organizations to help them incorporate the learning and practice of negotiation concepts and skills into their core programs with beneficiaries – including seminars at member conferences, youth leadership through sports, and more.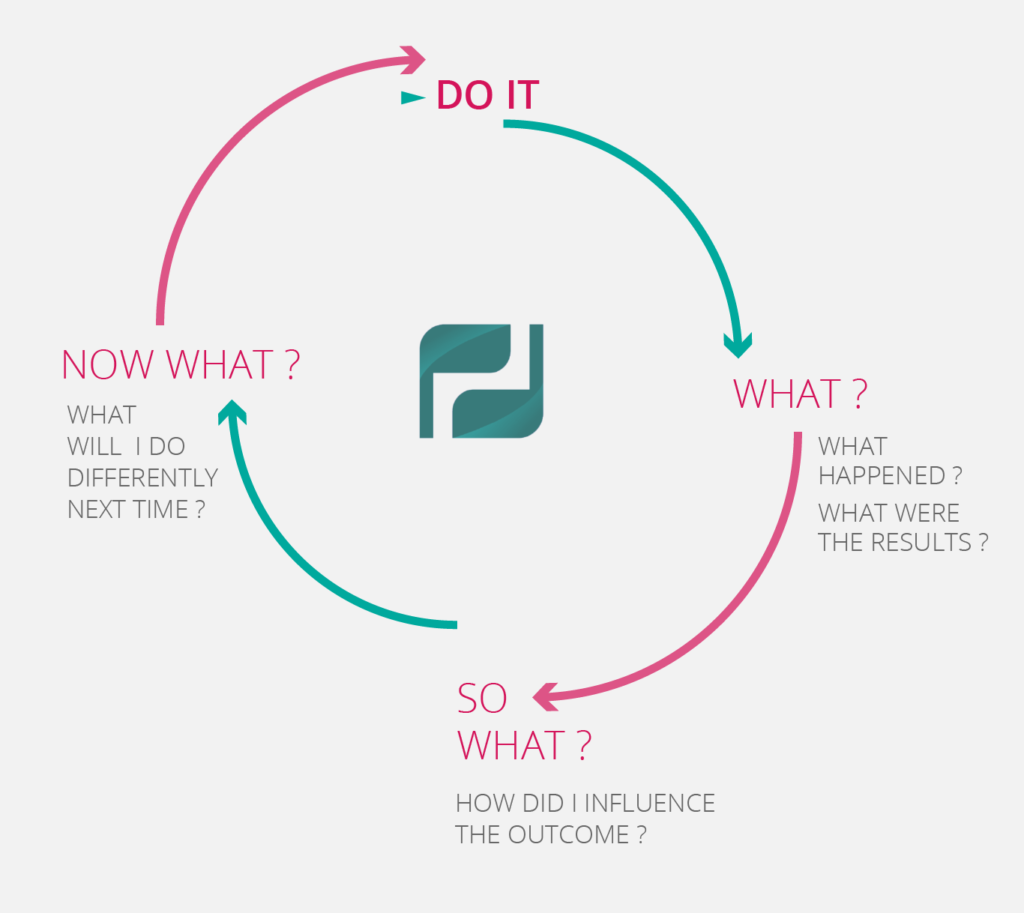 PATHWAYS programs REVOLVE around a progression of experiential learning cycles supported by a process of FACILITATED DISCOVERY and Active experimentation.
Participants learn by doing, reflecting, constructing new conceptual frameworks and practicing skills together.