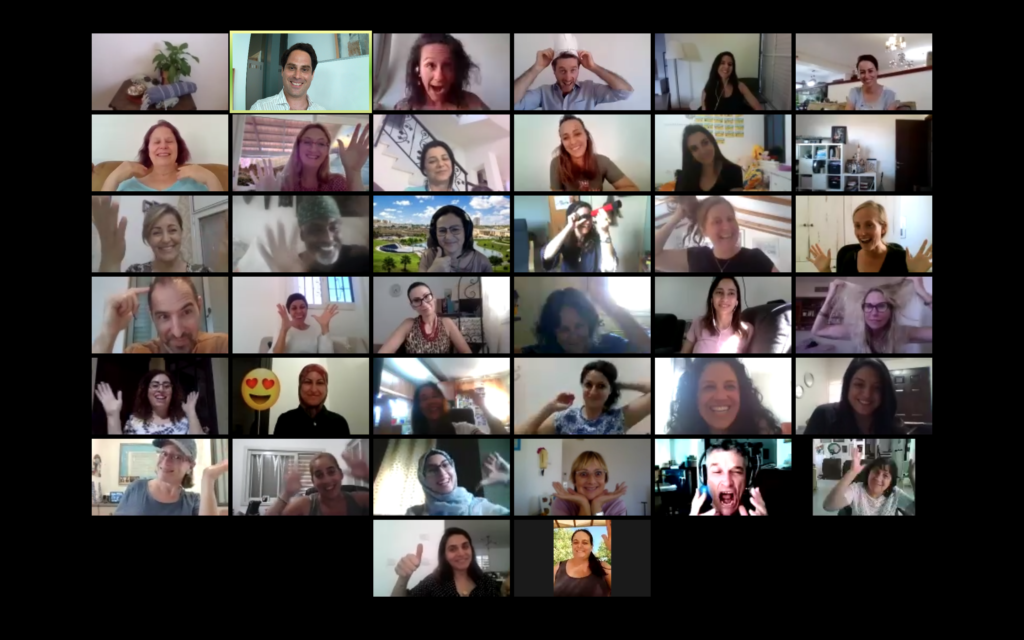 With the current public health situation preventing us from gathering in-person, PATHWAYS launched a new virtual edition of our annual Negotiation Education Summer Institute for educators. 
Over the course of nine 90-minute sessions spaced over five days (Aug 16-20), 34 educators from a variety of backgrounds teaching at both Hebrew-speaking and Arabic-speaking schools across Israel gathered to explore how key concepts from negotiation around communication and relationship-building can be brought to life in their English language classrooms.
Our program this year featured guest facilitator Naseem Khuri from Boston, who looked at issues around connecting, understanding, and being persuasive (and open to persuasion!) while negotiating with our counterparts. PATHWAYS connected the dots with lively, interactive sessions investigating the interplay between experiential learning of negotiation skills, fostering student motivation and engagement, and building vital thinking and speaking skills in the EL classroom. 
Through facilitated exchange with their peers, participants shared insights and practices from their professional experience and reflected on strategies for application. As a capstone, each participant created an original negotiation education teaching activity to be shared with other participants and the wider PATHWAYS Educator Community. 
Alumni of the program join over two hundred other educators in PATHWAYS'S growing network of educators engaged in bringing problem-solving negotiation and inter-communal exchange experiences into the education system.
Participants said:
"I think I can say that this was one of the most useful and well-run courses that I have ever taken (or given!)."
"Thank you so much. It was so enriching and enjoyable. What a great staff and group of cohorts."
"Thank you very much! I feel like I have learned something truly valuable from this course."
"Pro job on zoom – you would think you had done this before!"
"The most professional and organized course to date."
"The best institute ever… Marvelous, professional, and authentic people Thank you for everything!"
"Thank you all so much, it has been a meaningful experience for me. I wish we continue working together… I hope we will indeed all do our share to make the world a little more cooperative."
"It passed too fast. I want more!"