After eight exciting, engaging, and playful virtual sessions, the Program in Leadership & Negotiation for Young Professionals has come to a close. A pilot cohort of sixteen graduates composed of young leaders from Palestine, Israel, and the UK just completed their journey together.
Every Tuesday at 18:00, we came together (virtually) for 90 minutes to explore concepts in leadership and negotiation via proven, constructive approaches to problem-solving negotiation based on methodology developed at the Harvard Negotiation Project. Our time together was consistently interactive, exploratory, and even within the supposed virtual confines, highly experiential.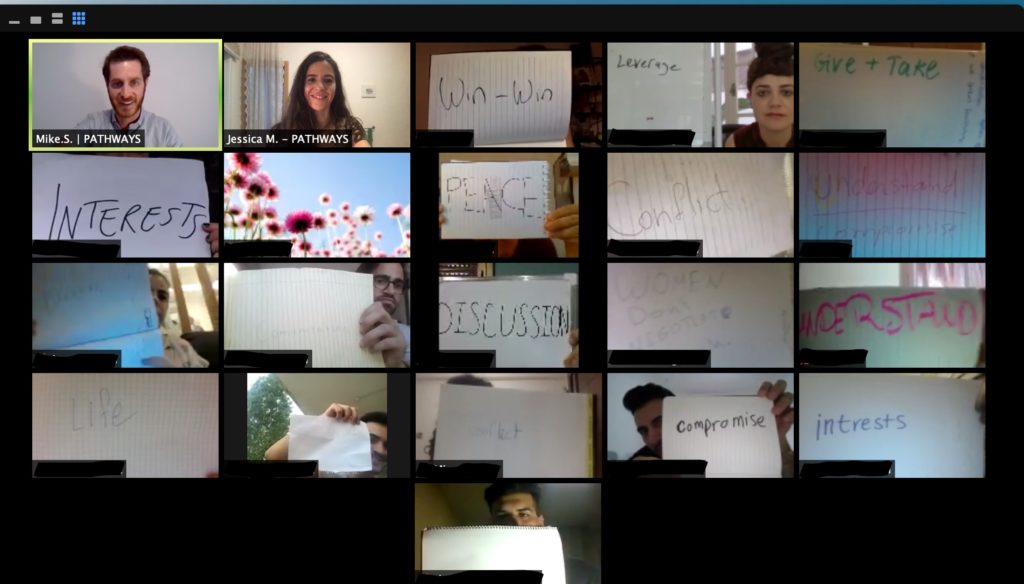 At the outbreak of the COVID-19 pandemic, PATHWAYS like everyone in the education space, suspended in-person workshops and programming. We moved quickly in that initial phase to transition our programs online and committed to continue the ripple effect that comes from leadership and negotiation education. 
ALLMEP, in commitment to its mission to secure and scale up funding to expand trust-building interactions between Palestinians and Israelis, adapted too. When ALLMEP and PATHWAYS partnered in this endeavor, we aimed to guide participants in cultivating a life skill to address difficult situations and conversations, along with how to lead more intentionally and effectively. The global tensions as a result of the current situation are a testament to the value of these life skills. Imagine a world where people of all ages and in all sectors of society communicated with an intention to understand from a place of curiosity and led cooperatively and purposefully. 
"I feel very lucky to be doing this programme as it is providing us with
both essential knowledge and essential connections."
-PLNYP participant 
The digital world provides a unique opportunity for meeting, connection, and learning. PATHWAYS will continue to adapt its content, syllabi, and experiential models of learning to run new virtual programs aligned with our core values around a creative essence, inclusivity, and education for all. ALLMEP will continue to support and amplify the voices and impact of its member organizations. Together, we can deepen an expansive network of empowered staff and alumni with a shared language and toolkit to guide them in both their personal and professional lives. And all of this starts with community.
As this leg in the journey of our first cohort draws a to close, that sense of community now not only exists, but is ready to thrive and grow.
We could not have done this without the support of the participating organizations committed to the professional and personal development of their alumni.