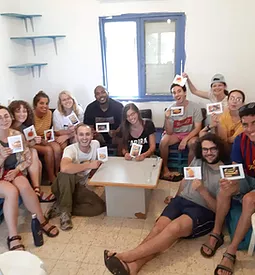 PATHWAYS were invited by youth movement, Habonim Dror, to design and implement a 5-part Negotiation Short Course for community leaders and informal educators that would make up part of the educational content for their gap year program for organization members from Australia, New Zealand and South Africa.
Given their position at the forefront of experiential education worldwide and with their volunteers contributing to English classrooms throughout Israel, we were delighted to be a part of their journey. We are energized by the fact that due to their tremendous work, hundreds more high school students are exploring the language of interest-based negotiation. 
All 19 participants who went through the 20-hour-long intensive course shared their positive feedback and also celebrated the ability that this course gave them, to not only bring it into their volunteer work here, but also to navigate the reality of living in a collective context during their gap year itself where naturally, conflict can arise!
Our final session with the participants this month, brought our third consecutive year cooperating with Habonim Dror to a close. We'd like to acknowledge the tremendous hard work of their staff, who even amidst a pandemic, navigated the logistical challenges and re-scheduling with apparent ease. We look forward to continuing our involvement with Habonim Dror in the future.