Hi, this is Mike K writing, facilitator and program manager here at PATHWAYS.
I'll take a moment to reflect and celebrate the success of our most recent virtual workshop series "Conversation Labs". Conversation Labs was a 5-part series we ran in partnership with Menahalim Beyachad in Jerusalem. I'm feeling very grateful to have worked with the two participating schools, Rawad Al Kuds and Keshet. Teachers from both schools – Tali Cohen, Keshet and Nidaa Khatib, Rawad Al Kuds – came together with 25 students from both schools for an engaging, enjoyable and English-filled experience.
The sessions were designed to give the students opportunity to explore foundational concepts related to negotiation and communication all the while talking freely and openly in English and, by virtually bridging East and West Jerusalem, getting to know students of the same age from a different community than theirs.
Some highlights of the workshops were:
Students discussing questions like – What makes someone a good person to talk to? Is being an empathic person something you are born with or something you can develop? If you can develop into one, how so? What things stop (or might stop) you from accomplishing what you want (e.g fear of failure, low of self-belief)?
Creating a spontaneous, shared story whereby each person in the group contributes one word and builds on the word from the previous person leading to a very humorous and unpredictable tale.
Counting to 10 as a group whereby only one person could say a number at a time and there was no way of planning ahead of time who would speak when (we got to 16!)
Listening with curiosity to other students as they contribute openly and honestly their own thoughts and opinions on everyday questions.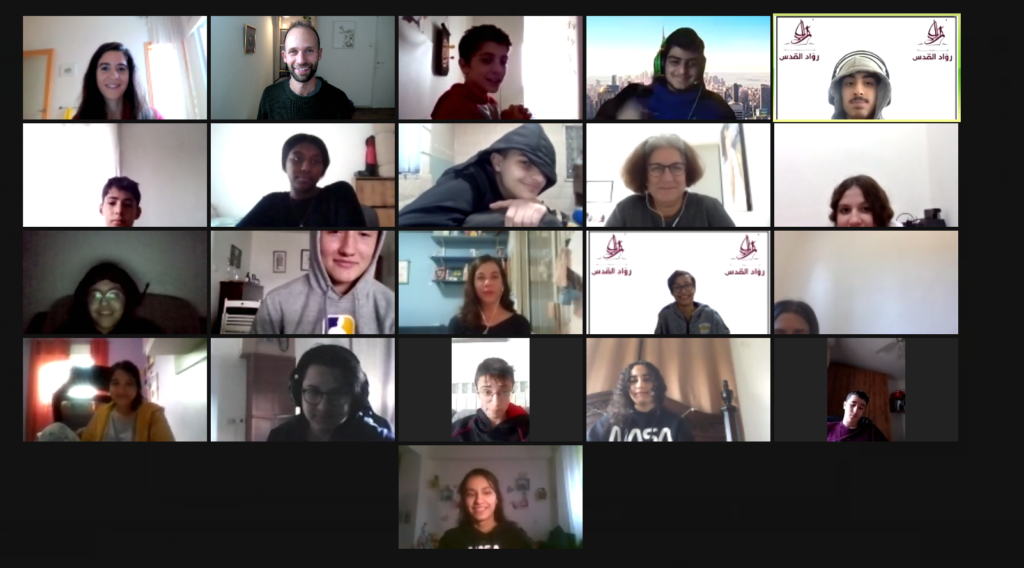 Sending a huge thank you to my co-facilitator, Jess Menasce, who came out of the last session with a big smile on her face and said "I'm actually quite emotional. What an expressive and open group of students!"
To put that in context we received some really touching and insightful feedback from the students and teachers….
"I think the classes were fun and amazing. It was a fun experience talking and getting to know new people. It was a pleasure, one of the best experiences."
"Our days in front of Zoom are really tiring and this is actually a fun and energetic and relieving way to end the day."
"Sometimes I'd come into a session feeling sad and I'd leave the session feeling good."
"I didn't know anything about the people from the other school but I feel now that I have a connection with them." (Husam, student Rawad Al Kuds)
"Do you have a year long program? My students didn't want it to end!" (Nida, teacher Rawad Al Kuds)
I'm feeling gratitude to have had the experience to have met and enjoyed the presence of these 25 young people. Additionally, I'm feeling encouragement that bringing different communities together in the virtual space does allow for real connections to be formed.
Run in partnership with: