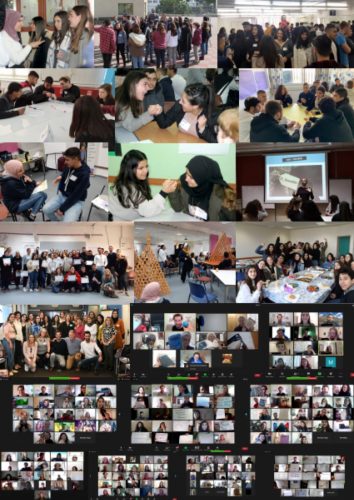 It has been quite a year for all of us. Despite the outbreak of COVID-19, we were able to adapt and not only sustain but expand our work to connect diverse Jewish and Arab communities around the learning and practice of creative, problem-solving negotiation. While we had to suspend in-person workshops, the situation presented an opportunity to engage participants virtually, forge new partnerships, and extend and deepen participant contact with PATHWAYS and one another. 
We have since been positioned in the shared society and peace-building fields in Israel as leaders in virtual facilitation. This has led to a number of new partnerships with civil society organizations for capacity building for their staff and new programs for their participants and alumni. Feedback at all levels indicates that the PATHWAYS subject matter expertise and experiential engagement in our in-person programs has translated effectively to the virtual joint learning and exchange space. 
With new activities, video role plays, and facilitation techniques adapted to virtual platforms, we are proud of the evolution that we have been making and excited for what's ahead. 
We continue to focus on partnering with key actors in formal and informal education in order to establish negotiation education and inter-communal cooperation within existing systems and structures. New network-based programs with the Darca and Atid school networks, partnerships with the Alliance for Middle East Peace and its members, and our growing national community of educators are just a few of the steps we've taken toward our vision of a shared society informed by the values, tools, and skills of creative, problem-solving negotiation and communication. 
Thank you to all of our partners and participants for your trust and support!  
Shaping the Future of Education: Accredited courses for 170 pre-service educators from diverse Jewish and Arab backgrounds at partner teacher colleges, including Oranim, Achva, Seminar HaKibbutzim, and Al Qasemi.

 

Building Teacher Leader Communities: PATHWAYS has partnered with Atid and Darca school networks to build teacher leadership and capacity in negotiation education and to embed tools and values in school systems and cultures.

 

Virtual Negotiation Education Summer Institute: 34 educators in week-long intensive "virtual retreat" focused on incorporating communication skills with teaching practices and English language curriculum.

 

NET Fellowship: 20 teachers completed a year-long Ministry of Education-recognized professional development course linked with student workshops at their schools.

 

Negotiation Education Master Classes: Real-time virtual workshops with experts to build national community of practice. Guests included: Mark Gordon, Sheila Heen, Stacey Lennon, Joshua Weiss, Cheryl Kiser, Mark Young.

 
National Game Changers Program: 20 Jewish and Arab schools in 10 pairs for 2-day joint learning and exchange workshops held at schools. (most completed in-person prior to Covid-19; remainder virtual).

 

Darca Negotiation Program: 10 Arab and Jewish Darca schools in 5 pairs for 5-part virtual workshop series.

 

Atid Game Changers Program: 12 Arab and Jewish Atid schools in 6 pairs for 5-part virtual workshop series.

 

Negotiation Skills for Life: 4 Arab and Jewish schools from the Jerusalem area in two pairs for a 6-part virtual series.

 

Conversation Labs: 2 Arab and Jewish schools from the Jerusalem area in 6-part virtual workshop series, focused on building confidence in inter-communal communication in English by learning negotiation skills.

 
EcoPeace Water Diplomacy for Young Professionals: Trained and equipped staff to facilitate participant sessions for 75 Israeli, Palestinian & Jordanian young leaders, and facilitated Regional Meeting for 43 final participants.

 

Program in Leadership & Negotiation for Young Professionals: 8-part virtual program for 21 young professional alumni of ALLMEP member organizations (MEET, Seeds of Peace, Our Generation Speaks, Solutions not Sides, Tomorrow's Women), to unify the network of Israeli and Palestinian organizations and promote cooperation.
While the public health situation in 2021 remains uncertain, our drive – and that of our participants and partners – to further develop negotiation and leadership skills has only increased. Global tensions and trends of social polarization are a testament to the urgent necessity of the interpersonal skills that PATHWAYS works to instill through educational systems. Imagine a world where people of all ages and in all sectors of society learned to communicate with the purpose of understanding and working through issues and differences from a place of curiosity and possibility. 
The digital world provides a unique opportunity for meeting, connection, and learning. PATHWAYS will continue to adapt its content, syllabi, and experiential methods to run new virtual programs aligned with our core values of creativity, inclusivity, and negotiation education for all. 
Whether they realize it or not, everyone is a negotiator. Let's all learn how to negotiate, together. 
Please contact us if you have any questions or are interested in exploring potential avenues for cooperation at connect@pathwaysnegotiation.org. 
We hope that you and your loved ones stay healthy and well during these challenging times. Thank you for your encouragement, support, and partnership.